Tags
balancing, creativity, life, musings, original fiction, original work, published work, ramblings, real life, thoughts, update, Windycon, writing
So, this last weekend in the Windy City known as Chicago (and believe me it was super windy this weekend. We had trouble opening the hotel doors a lot of the time we were in and out) every November we have Windycon. A Science Fiction and Fantasy convention that hosts a dealer's room, an art show, and guests of honor. As well as a host of panels to attend.
It's a lot of fun, and I know that well because I've grown up attending it, as well as a few other cons around the area. My dad used to sell at cons when I was little, so I'm not kidding about growing up attending the conventions. I learned to handle room issues, like the tv not working, when I was small enough I couldn't be seen over the hotel front desk. I've corralled the kids at the conventions to make sure no one was left out when we had fun. And as a teen, I learned how to use the gopher option to my advantage so I could get half my registration back as dealer's room spending money by doing a few hours of badge check work at the door without my parents' knowing that I got half the reg they paid back to spend on that artwork or book I walked out of the dealer's room with.
If you haven't attended a SciFi /Fantasy Con and you read the genres? You should totally try to see if there's one in your area to attend. Hearing people's takes on why fantasy is the way it is, or the history of urban fantasy is always an interesting panel to take in. The Dealer's room itself always has some incredible finds – this year there was a person selling handmade pottery (his stuff is beautiful) and another person had handmade wood pieces like dice trays and towers.
Most of my time was spent in the Dealer's Room this year because I was pushing the book I wrote with my co-author. The table just couldn't be considered complete without a plushie to represent a lot of people's favorite character from the novel – the black cat, Ada. =)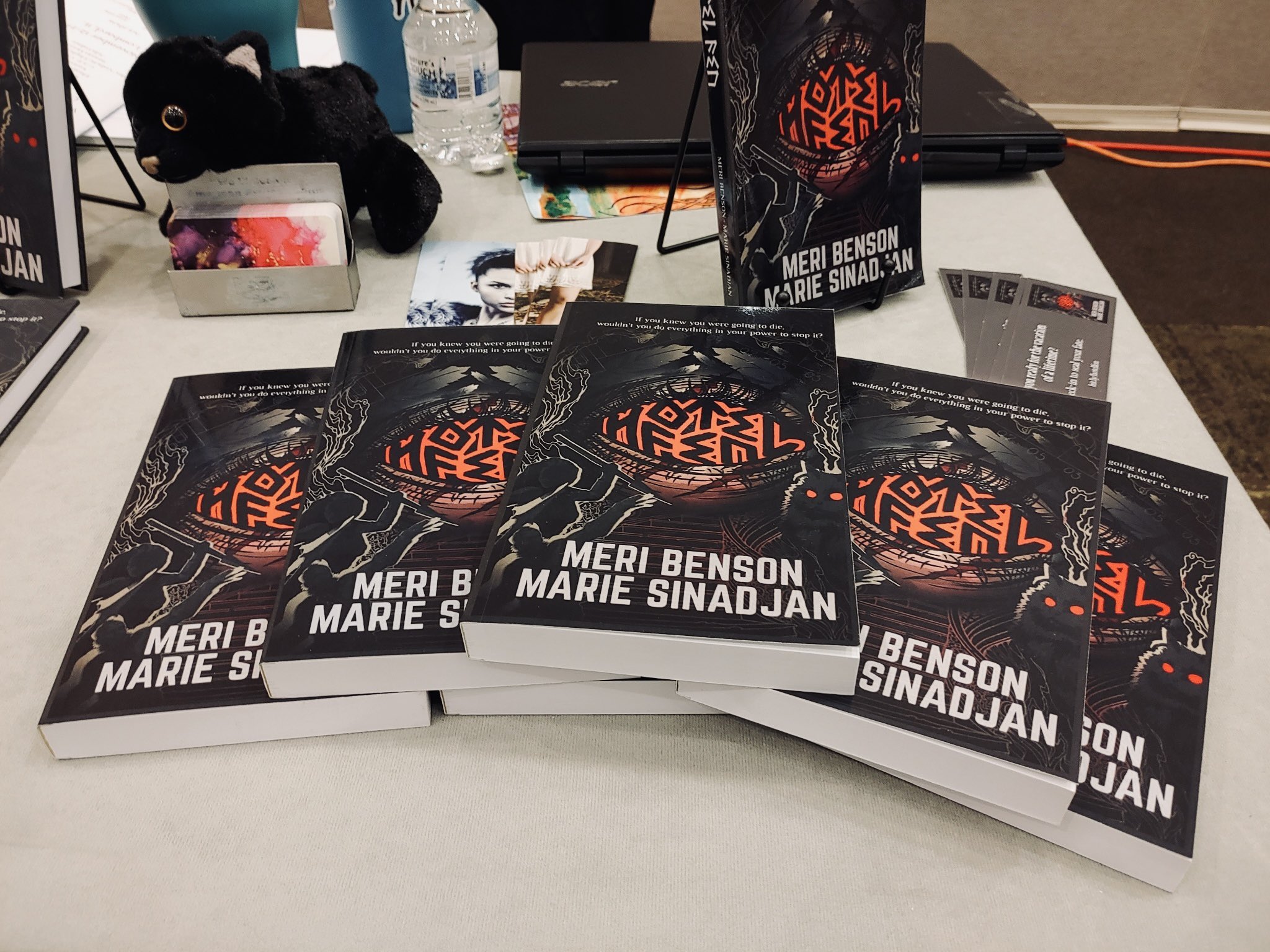 But I also had some of my art on the table for sale as well because I do paintings, necklaces (though someone did suggest trying to do earrings in a similar fashion that I need to look into), and inspired by the book – handmade and painted rune sets and individual rune keychains.
I will say that attending the Convention as a full-fledged dealer is a lot different than attending as just an attendee. Mainly because as an attendee you have the ease to flit from place to place and see all the things, attending all the panels, and you aren't really tied down to anything. As a dealer, you want to be at your table so you can sell your wares, talk to people who might be interested in them, and meet new people that way.
I really enjoyed talking to the people I met as a dealer. We had some interesting conversations about covers, about paint (because of my paintings), and about crafting as a whole. Plus I made a few new contacts that also do book things, so that was really cool. I can't wait to be able to jot the dates down on the vacation schedule for next year once Windycon releases the 2022 dates and snag a dealer's table again.
Do you attend conventions in your area? Are they big or small? Did you before the pandemic that you're hoping to get back to but just haven't yet? Let me know down in the comments!